2006/01/17 (Tue) - 11:52
mkspedal
① Some of current crank arm have different shaped pedal attaching hole, a recess around pedal screw area (see photo. A).
With such crank arm, flange of Ezy adapter "creep" into crank face, and wrench area become narrower than pedal spanner (3.2mm thickness). As a result, it is difficult to fit adapter firmly.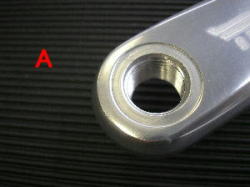 ©MKS
To avoid this problem, please place a spacer (■ on photo. B) onto the recess certainly before attach the adapter.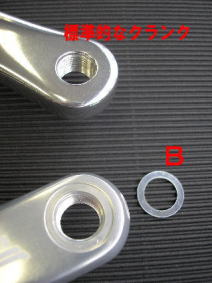 ©MKS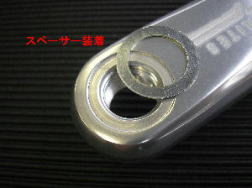 ©MKS
② To attach pedal firmly, push pedal spindle into hole of Ezy adapter until it clicks into position while sliding the adapter sleeve to crank arm face.
※caution
Then fit Ezy stopper in the place between crank arm and adapter sleeve.
If pedal attachment is not appropriate, Ezy stopper coud not fit into place.
In case of not proper fitting, please attach the pedal again and confirm the click.
Incorrect pedal fixing may cause un-aimed detachment or breakage.
For detail, please read service instructions attached to the product.