2003/06/11 (Wed) - 11:51
mkspedal
Many questions we have received "How to set toe strap?".
Though depends on the shape of pedal, basically pass strap through slot of pedal body as photograph shown.
To adjust shoe-fitting, put your foot wearing shoe on the step side of pedal, then pull up the tip of strap to tighten. To loosen, pinch tab of buckle and buckle base.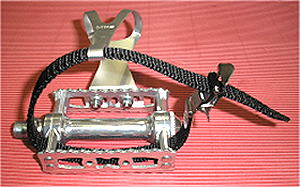 ©MKS
To the question "Which model could be set toe strap?", the answer is "To the pedal with front pedal plate which have clip fitting hole".
For MKS product, clip available models are as below.
EXA, Custom Pro, Custom Nuevo, Custom Wide, RX-1, Royal Nuevo,Touring-Lite, Touring-Lite Short, Esprit, Promenade, Prime Sylvan Road, Prime Sylvan Track, Prime Sylvan Touring, Sylvan Road, Sylvan Track, Sylvan Touring, Sylvan Stream, AR-2, Sylvan Lite, GR-9, Exim, MT-E, CT-Lite, RX-M, MT-Lux Compe, MT-Lite, MT-FT, G-6000
For MT-FT and G-6000, please remove front side reflector before Attach toe clip.
Note: as reflector is snap fit part, unusable after detachment.
"TC" marked products shown on MKS catalogue are single sided pedals and require toe clip install. For detail, please refer MKS catalogue.