2006/04/27 (Thu) - 03:59
mkspedal
Sometimes we receive a question "What is the difference between Sealed Bearing and Sealed Mechanism?"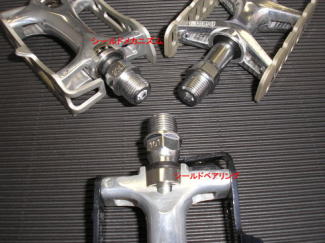 Sealed Bearing Pedal contains cylinder-shaped bearing unit, which called sealed bearing, (or cartridge/cassette bearing).
Sealed Mechanism Pedal contains traditional loose ball bearing, but with protect cover or sealing to prevent trespass of mud or dust.
So, the pedals with description "Sealed Mechanism" do not using sealed bearing, and the effect of those protections are not perfect or perpetual.